It's confirmed. The Zenmuse X7 cinema camera is the product being released at the DJI Reflections Event held today. Several leaked images are circulating the web, we have all the info for you below.
Earlier last week we reported the teaser video DJI released. Find that video here: DJI Reflections Event Teaser.
Pricing information will be available here: Zenmuse X7
Zenmuse X7
(The Zenmuse X7)
Lenses
The brand new Zenmuse X7 camera and gimbal is designed for professional filmmakers. There is no doubt about it. The Zenmuse X7 boasts up to 6K video recording at 30fps, a 35mm sensor and a compatibility with 4 DL-Mount lenses. The lenses supported:
16mm (built-in ND filter)
24mm (leaf shutter)
35mm (leaf shutter)
and 50mm (leaf shutter)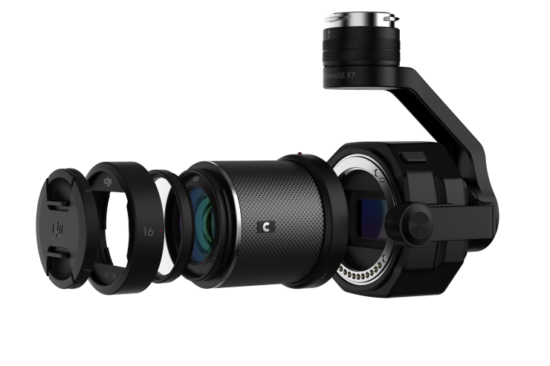 Comparison to the existing X5S
The sensor size of the x7 allows an increased resolution and pixel size delivering higher quality images.
The X7 is the highest resolution camera in the DJI catalog, and shrinks the requirements in terms of aircraft when requiring such high-resolution footage. Where earlier you required a matrice or Spreading Wings platform you can now utilize drones such as the Inspire 2.
The Zenmuse X7 integrates with CineCore 2.1, so currently it is only compatible with the Inspire 2. DJI promises future compatibility with other products.
Can we say OSMO 2 anyone?!
Specs:
Super 35mm (23.5 x 15.7 mm) sensor

incrased pixel size to 3.91 micrometers

DL Lens Mount
captures RAW video at up to 6K @30fps or
3.9K @ 59.94fps
photos at up to 24MP (Raw DNG)
up to 14 stops of dynamic range
image processing for Cinema DNG/Apple ProRes in CineCore 2.1
3 Axis Stabilized Gimbal & Camera
recording formats

Cinema DNG
Apple ProRes
h.264
h.265
DNG & JPG for still images
To make the Zenmuse X7 more stable and compact for aerial shooting DJI integrated a DL lens mount. This shortens the focal distance to only 16.84mm. The DL mount also reduces the size and weight of the camera while keeping the image cinema grade.
Initially, the Zenmuse X7 will be compatible with four DL prime lenses. The maximum aperture will be f/2.8. The leaf shutter in the lenses (besides the 16mm) allow for shutter speeds in single shot mode of up to 1/1000s. These are designed to reduce or eliminate rolling shutter completely.