That came as a surprise. DJI officially filed the required paperwork with the FCC to register a product with the name of DJI AIR 2S. I will show you why I believe this to be a Mavic Air 2S below:
DJI Air 2S or Mavic Air 2S?
DJI's naming schemes are changing. Previously we saw the Ronin S, now the new one is just called RS2. The new version of the Mavic Mini is called the Mini 2. Following this naming convention the Mavic Air 2 successor will be called the DJI Air X. Now, this latest leaked drone from DJI is called the DJI Air 2S.
DJI AIR 2S battery compartment label
The first rumor of this new drone from DJI was kicked off by the filing of the FCC paperwork. Inside this filing you can get a glimpse of the FCC label required to be placed inside or on the DJI Air 2S. Take a look here: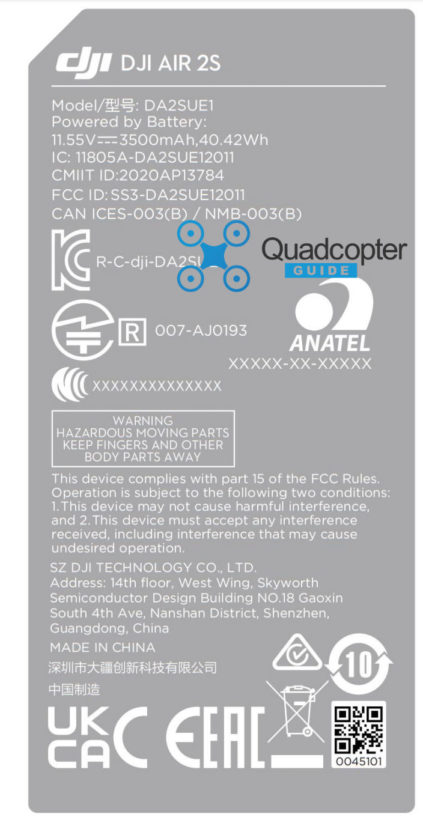 Just a Mavic Air 2?
The battery has the same specs as the current Mavic Air 2. It will be more or less the same physical size as the previous or current generation. Improvements will most likely be found with its camera.
Air 2 S Camera
DJI used the IMX586 sensor in the Mavic Air 2. A full review can be viewed here: DJI Mavic Air 2 Review. The IMX686 features a larger sensor and 64 Megapixels.
Details are still emerging, stay tuned.
What would you like to see upgraded on the DJI Mavic Air line of drones? Let us know down below:
Please Support QuadcopterGuide
If you'd like to stay up to date with all the latest drone/gimbal news, rumors, and reviews, then follow us on YouTube, Twitter, Facebook, Instagram or sign up for our email newsletter.
Purchase your next drone directly from DJI or retailers like Amazon. By using our links, we will make a small commission, at no cost to you. Thank you for helping QuadcopterGuide grow!