The DJI Phantom 4 launches tomorrow (1.3.2016), let's take a look at what we know so far and which features we can expect. To chronologically read about the leaks and our analysis of the Phantom 4 check out our main P4 page.
Vision Detection Sensors will allow for Return-to-Home with Collision Avoidance.
Quick-Release propellers will allow for an even quicker and safer mounting of the propellers.
The Integrated Anti-Vibration Board allows for a more streamlined design reducing aerodynamic drag while in full directional flight. It will additionally make the Phantom 4 gimbal sturdier.
The gimbal holds the camera on both sides for greater stability.
Wide Landing Gear will increase the Phantom 4's footprint to allow easier landing even in windy conditions. Additionally, the receiver antennas and compass are now fully enclosed in the Landing Gear.
New motors will allow for more efficient propulsion. They feature slits across the base of the housing for improved cooling. The top of the motor will suck fresh air in and allow it to escape through these small exhaust openings.
The Mesh Vents are located on the bottom of the arms. Another view of them can be found here. Interestingly there are no vents on top of the shell.
Since there is no longer an external anti-vibration board & camera processing board, the microSD slot and micro-USB ports have been moved to the left side of the shell.
The LED's that used to run along the arm are now in a circular pod directly under the motors.
The Landing Feet aren't just limited to four little foam rectangles but run the entire length of the new Landing Gear.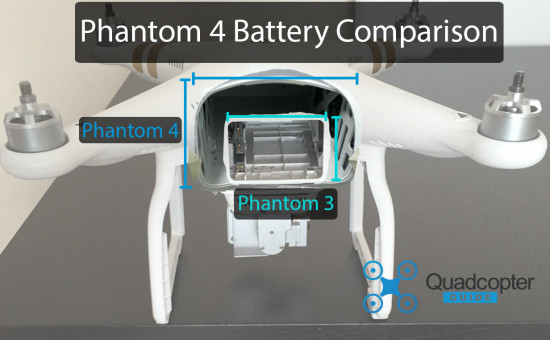 The Phantom 4 battery compartment laid on top of our Phantom 3 Professional.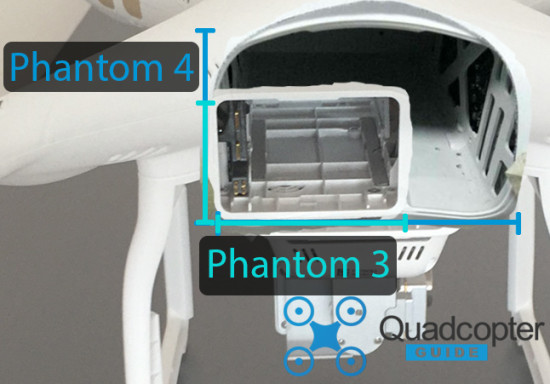 Another view showcasing the huge battery!
There is only one way to describe the new battery. Large. The additional Visual Detection Sensors, larger motors better camera require more power. The larger battery ensures we get to run all these new systems in addition to a longer flight time. Our estimate is 30 minutes.
Pricing should be in the $1500-$1700 range for the Pro or top of the line model with 4K camera and Lightbridge.
Well, there you have it, the soon-to-be-released DJI Phantom 4. We hope you have enjoyed our analysis, and invite you to join the Phantom 4 Facebook Group. If you haven't already please subscribe to our newsletter, just fill out the form below.