The time has come. Finally, the greatly redesigned DJI Mavic Air 2 is here. It improves on so many aspects of its predecessor, of which a few really bugged me on the original Mavic Air. If you are ready to take your content and drone-game to the next level, get excited. Today I take an in-depth look at this new drone in my DJI Mavic Air 2 – Hands-On Review!
Mavic Air 2 Hands On Review
DJI Mavic Air 2 Hands On Review - Detailed & In Depth
Check out the Hands On review above!
Mavic Air 2 has officially launched. Check it out here.
DJI Mavic Air 2
I have been watching the Mavic Air 2 Rumors & Leaks for a while now, excited for the moment this compact new drone from DJI will finally be revealed. The original Mavic Air was released in early 2018. In drone or quadcopter years, that was quite a while ago. If you are looking to upgrade or perhaps get your first real camera drone, this new Mavic is a worthy option.
I received a Mavic Air 2 early, and have been able to put it through its paces!
My Thoughts through my testing & review
When you open the box for the first time, you immediately notice the resemblance to the Mavic 2 Pro. It almost seems like a Mavic 2 Pro mini, in a way. The original Mavic Air styling was a bit different from the usual DJI drones, you either liked it or just kinda went with it. I am pleased with the size of the new quadcopter. It is more compact and lighter than the bigger brother and larger enough over the mavic mini to be less susceptible to gust while in the air.
Features
The new Mavic Air 2 is packed with features, some of the highlights include a new 1/2″ Sensor, 48MP RAW photos (a single file is nearly 100MB!), 4K 60fps with 120mbps video bandwidth and FINALLY OcuSync 2.0! Other key features of this new mid-range Mavic include HDR Photo, Panorama & Video, up to 34 Minute Flight Time, and Focus Track features. US & Canadian versions of the Mavic Air 2 will feature ADS-B sensors.
The Mavic 2 Pro can't even do 4K/60fps.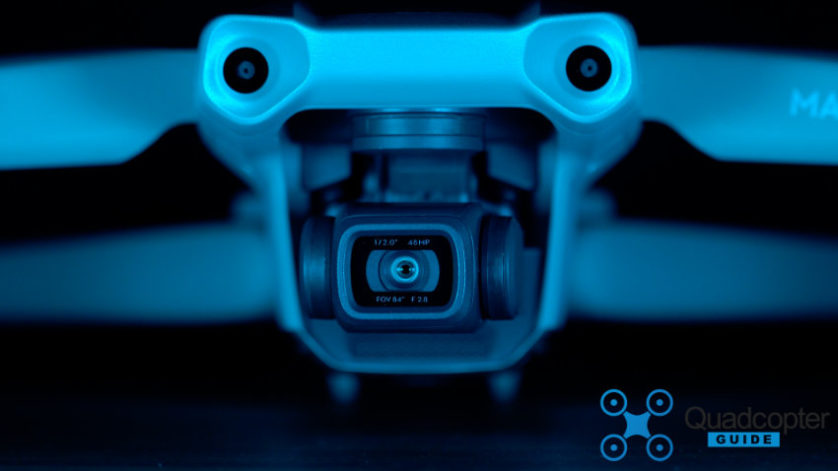 Size & Portability
The new Mavic comes in at 570 grams on the scale. The previous Mavic Air weighs 430 grams, and the bigger brother the Mavic 2 Pro weighs 907 grams. The new drone has gained a little weight, but the extra 13 minutes of rated flight time alone is worth the weight gain.
Focus Track
FocusTrack is what you get when you combine Point of Interest 3.0, ActiveTrack 3.0, and Spotlight 2.0. Hey Felix, that's a lot of point O's, what do they mean?
ActiveTrack 3.0: Follows the intended target while avoiding obstacles. Version 3.0 is smoother than ever before. Major improvements were made in the ability to re-find your target which got lost behind an object. Active Track 3.0 predicts the movement of your subject so when it goes behind an object for a second it will continue tracking.
Spotlight 2.0: You select your subject, the mavic air will aim it's camera at it, no matter how you fly the drone. The new gimbal even can film towards the side. 
POI 3.0: You have seen these kinds of shots. The drone perfectly circles a lighthouse, or other magnificent subject and the video is buttery smooth. Point of Interest 3.0 uses advanced positioning technology to create an automated path for Mavic Air 2 to fly around a fixed point, rotating the camera so the target stays centered. Compared to the previous version, the new generation of POI can identify moving objects such as vehicles, boats or human beings.
Stay tuned for my exclusive DJI Mavic Air 2 – Hands On Review video coming out asap. I will showcase many of these features in the video.
Photo Features
We can't talk photos on the Mavic Air 2 without mentioning it's new larger sensor. Through some personal research, I believe DJI is most likely using the Sony IMX586 sensor. This Sony IMX586 is a 1/2″ sensor with a quad bayer array which allows neighboring pixels to work together to pickup the same color increasing low light improvements and noise resistance. The kinds of images will yield a beautiful 12MP image. If you want full pixel-count, you will get magnificently huge 48MP images!
Video Features
Of course, no one will argue that 4K @60fps or 4K60p is the number one video feature on the new Mavic. However, don't discount HDR video. That 1/2″ sensor with its quad bayer array does an amazing job in capturing greater dynamic range than we have ever seen out of a mid-range Mavic drone from DJI ever. For the first time, it is possible to capture increased dynamic range for less than $800!
By the way, the only other DJI Consumer/Prosumer quadcopter that is capable of 4K60p is the Phantom 4 Pro v1 & v2.
Free Mavic Air 2 Resources!
Get free fullsized sample images, the QuadcopterGuide D-Cinelike LUT, and other great Mavic Air 2 Resources here:
Mavic Air 2 Resource Page
8K Hyperlapse
Taken out of the playbook for the Mavic 2 Pro and Mavic 2 Zoom comes directly to the Mavic Air 2. Hyperlapse, and that in 8K! You get a few different options for movement. Free, Circle, Courselock and Waypoint. Stay tuned to the Quadcopterguide YouTube Channel for updates on features like this.
OcuSync 2.0
I won't lie, my biggest gripe over the original Mavic Air was it's wifi-based transmission system. I happen to be in the EU where our legal maximum throughput of transmission signals is more limited than in places like the US, but still if there is any kind of interferene, you can forget having a solid signal. The Mavic Air 2 improves on this, and not just a little. It gets the same quality of transmission system as the bigger brothers, the Mavic 2 Pro and the Phantom 4 Pro V2! Now even in reduced transmission strength countries around the world, you won't have constantly worry about your live video feed, which by the way is now transcoded in H.265 smoother and higher quality image on your display.
If you don't care about the fantastic new camera on this new Mavic Air, then OcuSync 2.0 is enough to make you ditch your old Mavic Air.
Of course, you need to follow local laws, pertaining to VLOS (Visual Line of Sight) flights, etc.
Battery Life
Based on DJI's testing in perfect conditions, they rate this new Mavic Air 2 at 34 minutes. That is 13 minutes more than the original Air… that's nuts. I can tell you from personal experience, that I have been getting a solid 27-28 minutes of flight time, and I do NOT fly in perfect conditions. I think flights up to 30 minutes are very realistic. I always recommend people land their drones around 30% to not over-discharge their batteries, of course, it all depends on how you take care of them. I prefer to have more batteries and not have to run them as low every time.
Pricing
When I found out the Mavic Air 2's pricing ahead of the launch I thought I had received a bunch of typos. The Mavic Air 2 can be had for $799. That is a fantastic deal for the feature set included in the new Mavic. I am certain many hobbyist & content creators will be very well served with this Mavic Air 2, instead of having to spend a lot more on the Mavic 2 Pro or Mavic 2 Zoom. We are already drooling over the Mavic 3 possibilities.
Prices across the world
Check the best price for the Mavic Air 2 here.
Be sure to subscribe to our YouTube Channel for the imminent release of our in depth DJI Mavic Air 2 – Hands On Review Video!
Please Support QuadcopterGuide
If you'd like to stay up to date with all the latest drone/gimbal news, rumors, and reviews, then follow us on YouTube, Twitter, Facebook, Instagram or sign up for our email newsletter.
Purchase your next drone directly from DJI or retailers like Amazon. By using our links, we will make a small commission, at no cost to you. Thank you for helping QuadcopterGuide grow!