For years I thought "Why doesn't DJI just release an action camera like the GoPro?". Well, it sounds like that DJI Action Camera may finally become a reality. DJI is rumored to finally release a direct GoPro Hero 7 Black competitor! All the rumors and leaks on this DJI Action Camera:
It's released:
check out the new Osmo Action HERE!
DJI Action Camera – OSMO Action, what have we heard?
Even though it seems like an obvious DJI product, the DJI Action Cam hasn't really seen any concrete evidence or rumors, let alone leaks in the past. Well, today this changed. Check out everything we know about the DJI Osmo Action:
Latest leaked Images & Specs of the DJI OSMO Action
DJI Osmo Action - New Leaks & Infos DJI's Action Cam [4K]
Update 9: More official specs are available:
The Osmo Action will shoot 4K HDR and be waterproof to 11m as is. RockSteady uses electronic image stabilization with complex algorithms to provide best in class stabilization without a gimbal! HDR in 4K ensures that a greater dynamic range is recorded. Highlights and Shadows will keep more details. 100MBit per second Video Bandwidth. Multiple creative recording modes will ensure you can easily record the action. Slow-Mo with 240fps at 1080p.
Images at night capable of up to 120 seconds Shutter speed. Built-In Timelapse mode. Timelapse RAW capture possible. The 3 buttons allow you to quickly change settings so you don't miss out on important shots. The QS (Quick-Switch) button allows you to quickly switch through the different modes. One button allows you to quickly switch between the 2 screens. Snapshot mode allows you to record in the previous mode even if the Osmo Action is turned off, in only 2 seconds startup time.
Voice commands allow you to control certain aspects of the device with just your voice. The Lens consists of 3 aspherical lenses, effectively reducing distortion to a minimum, and ensure a crystal clear image quality. The high performing battery works in temperatures down to -10 degrees C (14 degrees Fahrenheit).  An efficient cooling system allows prolonged use up t0 16% more. (Not sure what that's comparing to).
Update 8: Official Osmo Action Images & Specs have leaked!
Update 7: Rocksteady is the new Hypersmooth & Specs!
Details of the DJI Osmo Action are leaking ahead of the event. DJI's electronic image stabilization will be called Rocksteady. It works similarly to GoPro's Hypersmooth.
The Osmo Action will also feature a D-Cinelike color profile to allow users to retain a bit more dynamic range for those wanting to edit the color a bit more in post.
Video Resolutions
4K (16:9) – 60, 50, 48, 30, 25, 24 fps

4K (4: 3) – 30, 25, 24 fps

2.7K (4: 3) – 30, 25, 24 fps

2.7 K (16: 9) – 60, 50, 48, 30, 25, 24 fps

1080p – 240, 200, 120, 100, 60, 50, 48, 30, 25, 24 fps

720p – 240, 200 fps
Photo Resolution – 12MP
Displays
Front Display – 1.4″ 300ppi
Main Display on back – 325ppi
Sensor Type
Storage
micro SD memory card, max. 256 GB
Update 6: Official Retail Packaging has leaked
Update 5: New leaked images confirm DJI OSMO Action
If you have been wondering what name DJI would give this new Action Camera, you no longer need to wonder.. It's the DJI OSMO Action!
Further images have leaked: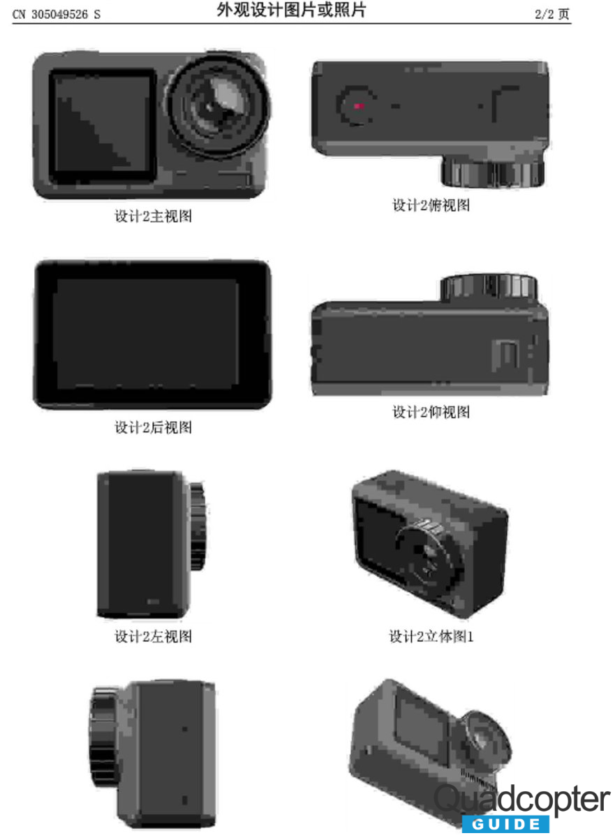 Update 4: Action Camera filed in previous patent
The DJI Action Camera design images have been found in some patent applications by Osita. Based on the rendered images the leaked images we posted earlier are very plausible.
Update 3: DJI Action Camera May 15th Release Event Confirmed!
An Event has been scheduled for May 15th. May 15th Event details here.
Update 2: Further DJI Action Camera News
Further rumors have emerged on the DJI Action Camera. First, the name Osmo Sport has been thrown about as the name of this new GoPro competitor Action Camera from DJI. In terms of price, rumor has it that it will be priced below the price of the GoPro Hero 7 Black. The release date was claimed to be April 23rd, however, the release event may have been delayed (As you may have noticed April 23rd came and went, meaning the event did get postponed).
Update 1: Did DJI just confirm the new DJI Action Camera?
Well, I may be onto something here. After a quick chat with DJI Support, which started regarding something totally different, I decided to ask about this mystical DJI Action Camera. I honestly expected a boilerplate answer of there's nothing to see here. But then "Anthony" replied with:

Initial Leak
I'm browsing my YouTube Home Feed, and here comes a video from 51 Drones, where Russ (Hi Russ! Hey hit me up, let's do a video together soon!) talks about this DJI Action Cam leak from Steven. The initial leaks were reported on a Russian YouTube channel of Steven Divish. He shows the following leaked images of the rumored DJI Action Camera on his video.
Rumors:
Two LCD panels, one on the front for Selfie/Vlog mode and one on back
4K60fps to compete with GoPro Hero 7 black
electronic stabilization
no fish-eye or extreme barrel distortion
1/2.3″ sensor – same size as Mavic 2 Zoom, Mavic Air, Mavic Pro
Release before End of April. Some say next week!
In contrast the GoPro Hero 7 Black features a Sony IMX277 Sensor 12MP 44fps max @ full res, 1/2.3″. The GoPro's front display is a 28 X 129 Mono LCD. DJI would need to make this a better color display if they plan to have it be a hit with the Vlogger crowd. From the leaked images, there is definitely room in that black area on the front to put a larger display on the front of the DJI action camera. That or feature a flip-up screen, but then it won't be a true action cam, which I think this will be. The back display on the GoPro Hero 7 black is a 3.5″ TFT | 320x480px.
Are the leaked DJI Action Camera photos fake?
That is a great question. Here is my take on it, as much as I want this to be real currently these images look fake to me. Check out the image below to follow along on these points.
The body of this DJI Action Cam look rendered to me. Look at the shadows on the bottom left. The light grey body of the Cam has a perfect edge and the same flat grey color, without reflections of any kind of light at all.
Further edge which looks rendered. No imperfections. No light reflections.
Button also looks rendered.
Also very interesting, the second button in this photo/render isn't in the 3D render image.
The lens looks like it just got pasted on top of the rendered image. It almost looks like a GoPro lens with a UV Filter on top. Plus, if this DJI Action Camera is supposed to be Fisheye free, i would expect a lens that isn't rounded… like a Fisheye Lens.
In the 3D Render there magically doesn't appear to be the 2nd Button on top of the DJI Action Cam which we saw in the original image.
Got a scoop for us on this DJI Action Cam?
If you have any more information on this product, feel free to reach out on the contact us page. All Sources will be kept confidential if preferred.
Please Support QuadcopterGuide
If you'd like to stay up to date with all the latest drone/gimbal news, rumors, and reviews, then follow us on YouTube, Twitter, Facebook, Instagram or sign up for our email newsletter.
Purchase your next drone directly from DJI or retailers like Amazon. By using our links, we will make a small commission, at no cost to you. Thank you for helping QuadcopterGuide grow!