DJI released a new accessory for the DJI Spark drone! Today we will take a look at the DJI Spark Charging Station. This device allows you to charge your Spark drone on the go!
DJI Spark Charging Station Review
Official DJI Spark Charging Station Review - Everything you need to know!
(Our own video review of the charging station)
Features
The charging station allows you to charge your DJI Spark, spare batteries and even any accessory which is able to be charged with a USB cable. If you have ever wished to charge batteries while on-the-go, without a power outlet available, then this is for you!
Highlights:
Charge & Storage location for Spark (with battery), and 2 additional spare Spark batteries
5000mAh built-in LiPo battery

enough to charge 3 Spark batteries fully

Different available charging modes
Smart Charge Order
Includes an additional AC Adapter
Optional Case is the last Case you will need for your Spark!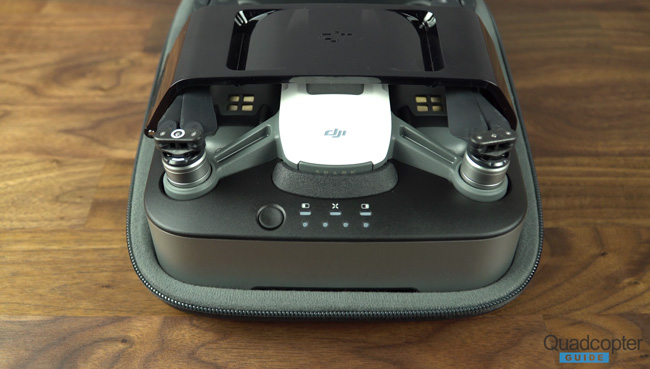 Usage
To turn on the Spark Charging Station you just tap-release-tap-and-hold the power button. Just like you turn on the DJI Spark or any other DJI drone for that matter. It's intelligent Smart Charge Order feature ensures that you can get back into the air as quickly as possible. The batteries in the aircraft get charged first and then the spare batteries inside the Spark Charging Station. The spare batteries will be charged in order of highest remaining charge first. So if one spare battery is at 30% remaining charge and the other at 15%, the one with 30% will get charged first. This ensures the shortest charge time for the next battery being charged.
Note: When the power level of the charging station gets to 5% it will stop charging and turn itself off automatically. Additionally when charging is complete or the device doesn't find a battery or device to charge it will turn off automatically.
Different Modes
Leaving Charging Station attached to External Power
You can use the Spark Charging Station while plugged into an AC Outlet. This allows you to charge your batteries and the charging station at the same time. You can also only charge your smartphone or tablet via the built-in USB port. One less charger you have to carry with you on vacation!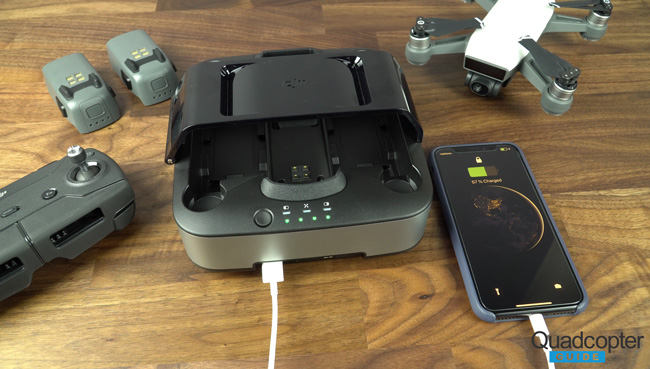 Charging Station out in the field with no External Power
Of course, the main purpose of the Spark Charging Station is to charge your Spark and its batteries out on-the-go. Once the charging station is fully charged, it's capable of charging three DJI Spark batteries from a fully discharged state to fully charged. Of course, we don't recommend running your batteries all the way to 0% charge as this can damage the battery cells, and have a drastic effect on the longevity of your batteries.
*For both modes: If you place a powered on Spark into the charging station, it will automatically turn off.
Specs:
Charge Times
Charging Time Connected to an external power source:

Approx. 1 hr 35 min (station only)
Approx. 3 hr (station and three batteries)

Disconnected from an external power source:

Approx. 2 hr 30 min (three batteries)
Technical Details
Model: MMPCS01
Compatible Battery Charger: Spark Battery Charger (F1C50 Version 2)
Compatible Battery Model: MB1-1480 mAh-11.4 V
Output USB Port: 5 V, 2 A (Total)
Real capacity: 4200mAh (built-in 5000 mAh battery), 54 Wh.
Weight: 680 g
Input Voltage: 13.05 V
Input Current: 4 A
Operating Temperature Range: 41–104°F (5–40°C)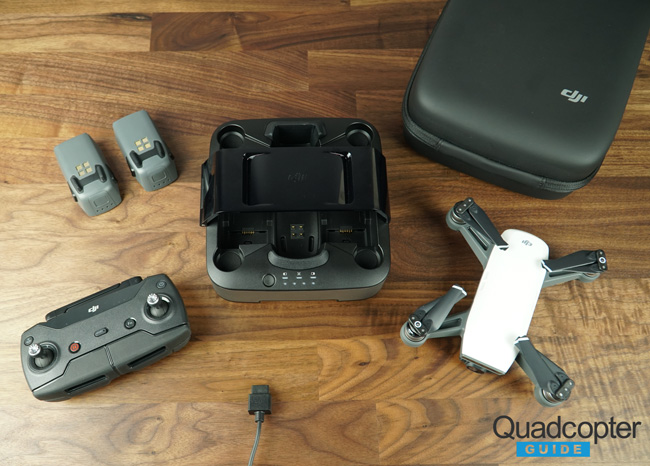 Check out the Spark Portable Charging Station for yourself! It is available in two configurations: