If you're looking for an awesome gift for that special someone, or yourself ;) you've come to the right place. DJI just posted their Christmas Deals. Check them out below:

The following drones are on sale:
There are other non-drone deals as well, on the Osmo Mobile and the Osmo+.
Phantom 4 Pro and Inspire 2:
Each Phantom 4 Pro and Inspire 2 purchase includes a Winter Gift Set, which appear to include a pop-up Phantom card and a gray fleece scarf.
Check out the XMAS & New Years Deals: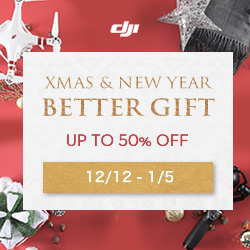 (Christmas & New Years Deals)