UPDATE: The deals are now LIVE! Click HERE to snag your Black Friday Deals from DJI!
It's that time of the year, spend time together with family and be thankful for what we all have then wake up early the next day and risk getting trampled to save $50 on some random electronics. Uhhh.. No, I hope you are choosing the online-only strategy this year. Luckily the DJI Black Friday Drone Deals are really good this year. If you know anyone that is considering getting a Drone or Quadcopter for Christmas or is just in the market please share this page with them.
DJI Black Friday Deals – Available 17:00 26th Nov. 2015 (EST) – 24:00 30th Nov. 2015 (EST)
Phantom 3 Pro with 2nd extra battery for only $1159
that's $1408 worth of gear for only $1159 (savings of $249)


Phantom 3 Std $599 – a good starter Drone, Still way ahead of the Phantom 2 I started with!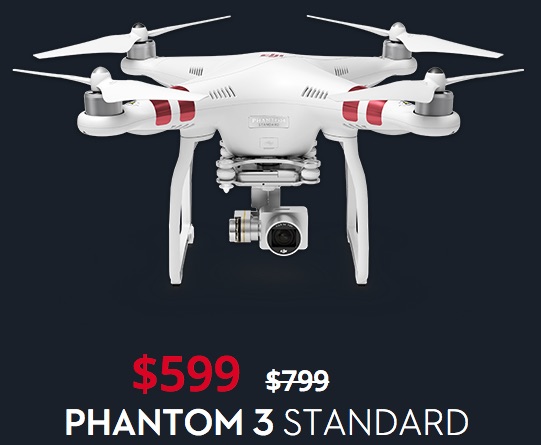 The Inspire 1 get's you entered in an Osmo giveaway but they are only giving away 1 a day. I'll take the instant savings of the P3 over a chance to win something every time.
Best Buy is having Black Friday Deals on the DJI Phantom 3 as well but are limited to very few quantities per Store. I can't imagine waiting outside in some line at the early hours of Black Friday just to be the person that doesn't get one. Besides you save your Sales Tax in most states when ordering through DJI. Sign up for our newsletter to never be left out of deals such as this one again!