DJI released the much awaited Smart Controller for the Mavic 2 at the CES show in Las Vegas. We have seen leaks of this Remote Control with a built-in display for a while, now it's finally here. Let's check out the DJI Smart Controller for Mavic 2.
Be sure you check out our detailed DJI Smart Controller Review.
5 things you didn't know about the DJI Smart Controller for Mavic 2
1. It features an ultra-bright display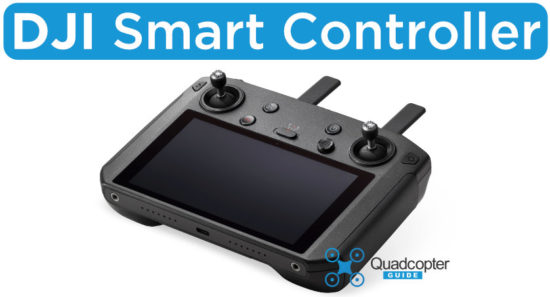 (DJI Smart Controller available now)
Of course, the large 5.5″ display is the main feature of the DJI Smart Controller however, its best feature will surely be the 1000 nit (1000 cd/m2 ) display. Interestingly most smartphones only reach up to a maximum brightness of around 500-700 nits. The flagship Apple iPhone XS reaches a max nit value in bright outdoor conditions of 658 nits (according to iMore). So this display is able to get even brighter than that. Sunshades for displays are a thing of the past, finally! The display features a resolution of 1080P.
2. It will support future OcuSync 2.0 Aircraft

According to DJI, the Smart Controller will support future Aircraft. We assume this means all future aircraft using DJI's OcuSync 2.0. Anyone willing to place bets on the DJI Phantom 5 being an OcuSync 2.0 Aircraft? Currently, the Smart Controller is compatible with the Mavic 2 Pro and Mavic 2 Zoom.
Update: The Mavic 2 Enterprise is displayed as compatible in the DJI launch video for the device.
The Mavic 2 Enterprise is not on the compatibility list, perhaps this is due to the Enterprise version of the Mavic 2 Drone using the DJI Pilot app instead of the usual DJI Go 4 App.
3. It supports 3rd party apps
This is a big surprise, as the Built-In Screens on the Phantom 4 Pro and Phantom 4 Pro V2.0 never officially allowed people to load their own APK application files. Now it is possible out of the box!
4. It features an HDMI port which supports 4K Video Out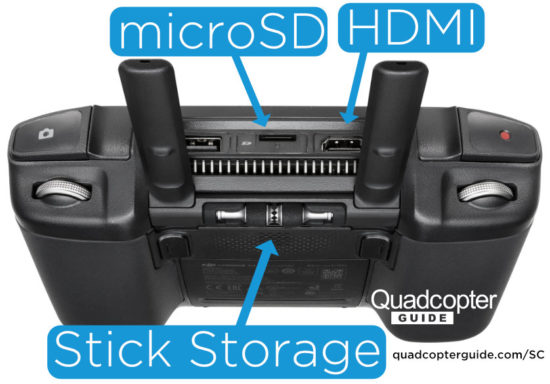 The Smart Controller features an HDMI-Out port which allows playback up to 4K. OcuSync 2.0 is limited at transmitting a 1080P live signal, so this will have to be recordings you load via the microSD card or downloaded from the built-in browser.
5. It supports QC2.0 quick charging
At the bottom of the Smart Controller, you will find a USB-C port and what looks like two 1/4-20 tripod screw mounts. The USB-C port can be used to QC2.0 Quick-Charge the Smart Controller. Charging through the USB port will take 2 hours using a 12V/2amp power supply.
Smart Controller Video Review
Be sure to subscribe to our YouTube channel so you can be notified of our Video Review of the DJI Smart Controller! You have to manually click the grey bell after you have subscribed to be notified of our Smart Controller Review and our future videos: